Description
STK4141 Amplifier is hidden GOLD
Analog audio amplifiers are very powerful enough to make a high noise with stable quality factor. I have designed a lot of IC based audio amplifier boards previous year. And today I am designing an OLD-GOLD amplifier using 1980's STK4141 IC. This amplifier has a different sound environment which match to the theme of old era. A little noise with dual speakers gives the feeling of old HI-FI speaker system. This is the most popular IC of that time used in most of car stereo system and has a compact size.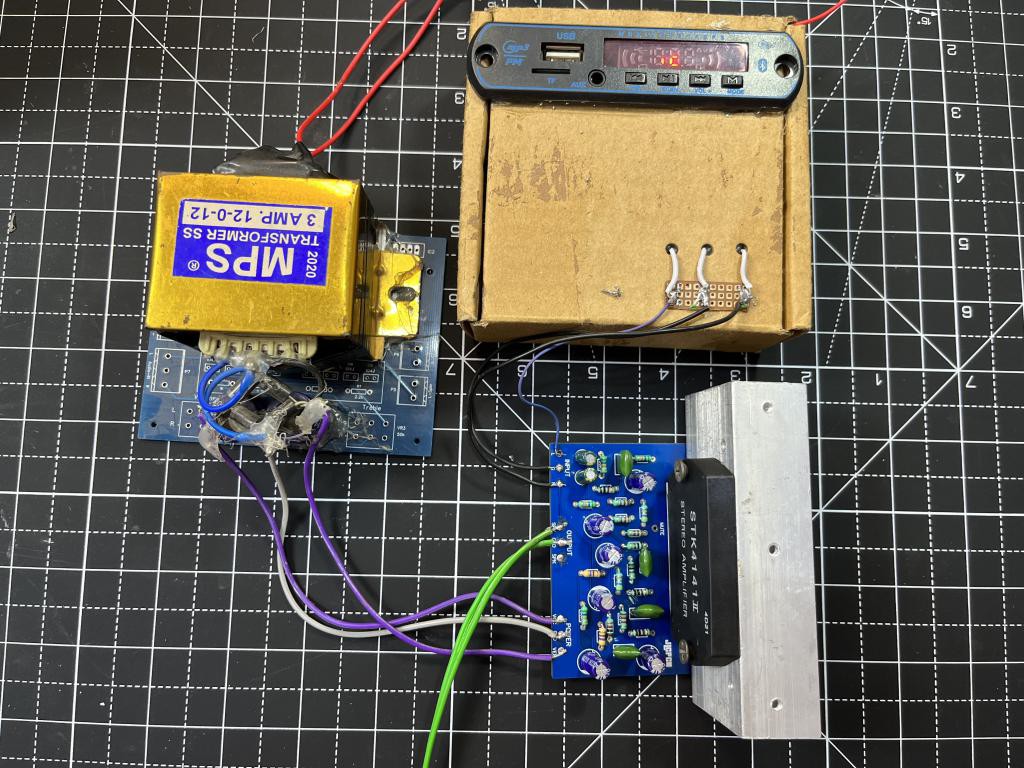 I am using PCBWAY prototyping service, PCBway is the one of the leading PCB manufacturer company in China for more than 15 years of experience. Get the top-quality product in reasonable prices, quote now and know more about the services.
Ratings and features:
Recommended speaker: 8 ohms
Wide power supply range: 12v to 39volts (Dual supply)
Stereo channel (25+25 watts)
Thermal protection and mute options
This IC has dual channel stereo output and a very wide input range, works very well on 8ohms load speaker. The maximum power delivery is 25 watts per channel. This IC is developed by Sanyo, Tokyo. The recommended supply voltage is 26volt, standard 24-0-24 @3amp is enough to get the full output.
Components required: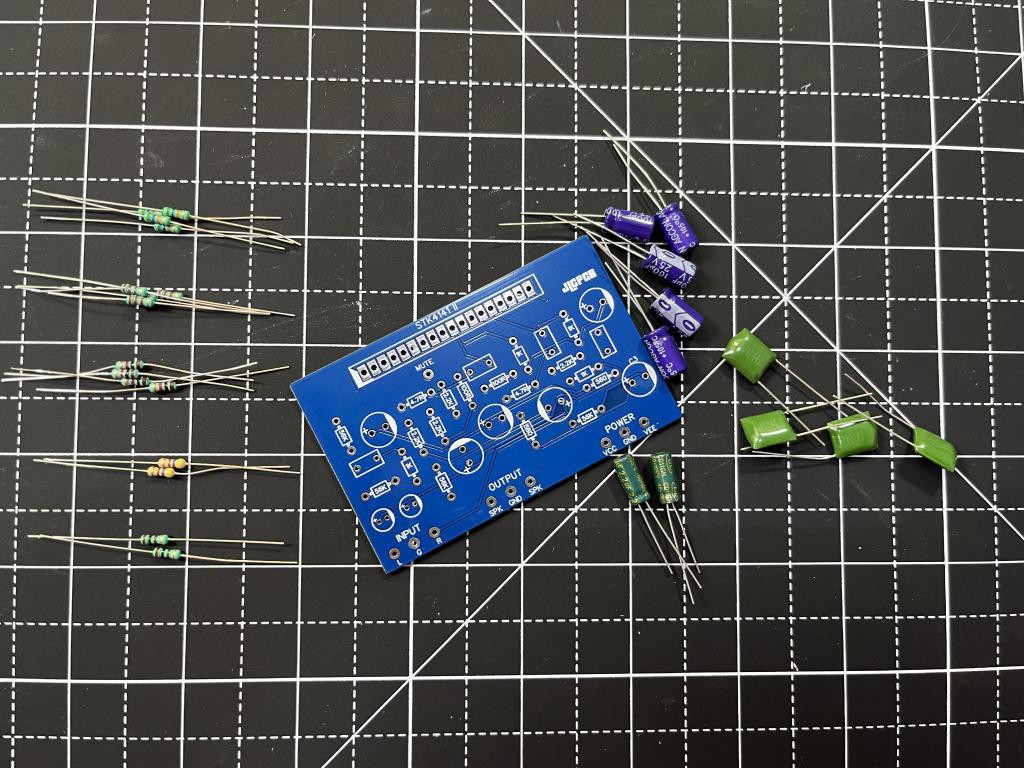 STK4141 audio amplifier
56k, 2.2k, 1k, 560R, 100R and 4.7R resistors
220uf, 100uf, 47uf and 1uf electrolytic capacitors
100nf, 470pf ceramic capacitors
Centre tapped transformer
Filtered power supply
Custom PCB from PCBWAY
Circuit diagram: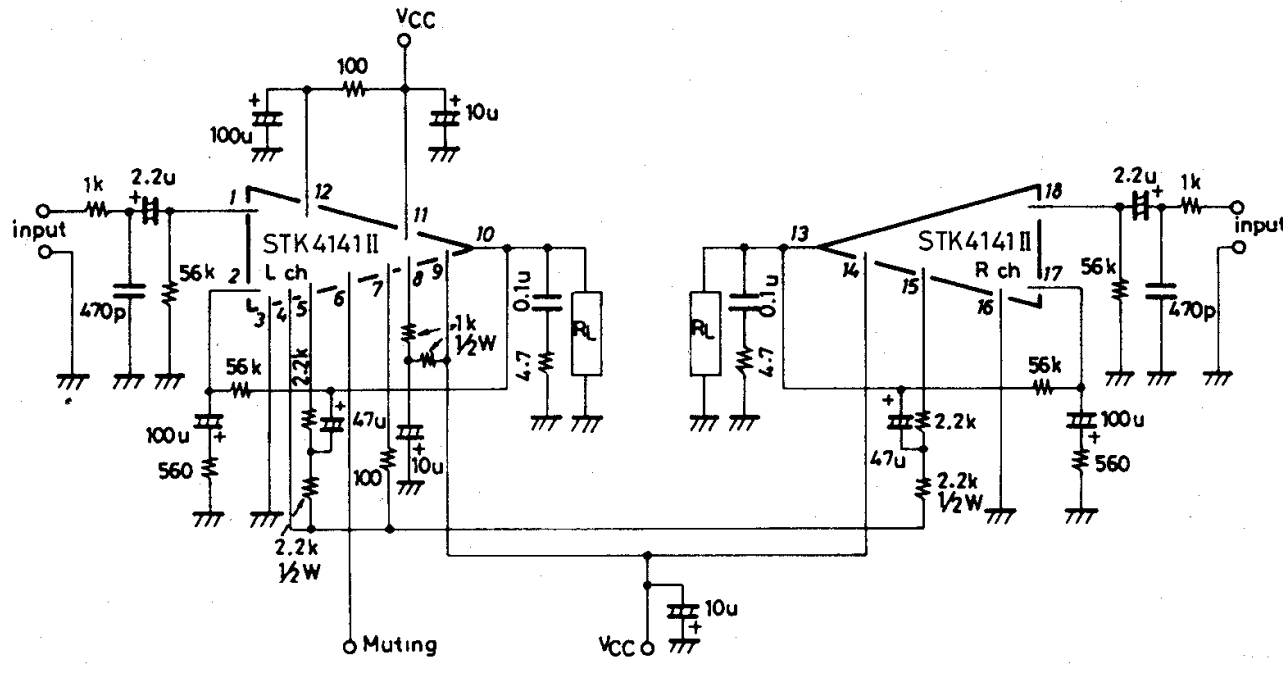 The datasheet circuit is the practical one, but there is a mistake in the polarity of the capacitor. The datasheet is very old and circuit values are not visible enough. But it is recommended to connect high capacitance filters in the power supply lines.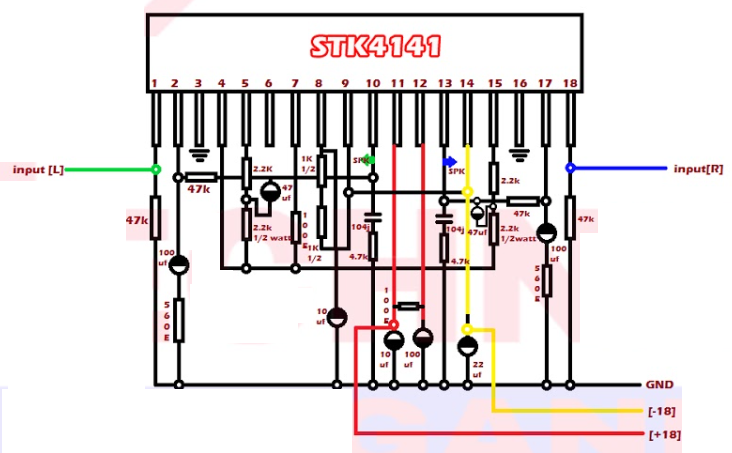 There are two power operational amplifiers inside the single package of STK4141 ic which is used separately to give an output of 25+25 watts. The basic principle remains the same we are using non inverting configurations with a closed loop gain of 100. Some other circuitry is also required for proper action and to set the biasing conditions.
Transformer and power supply: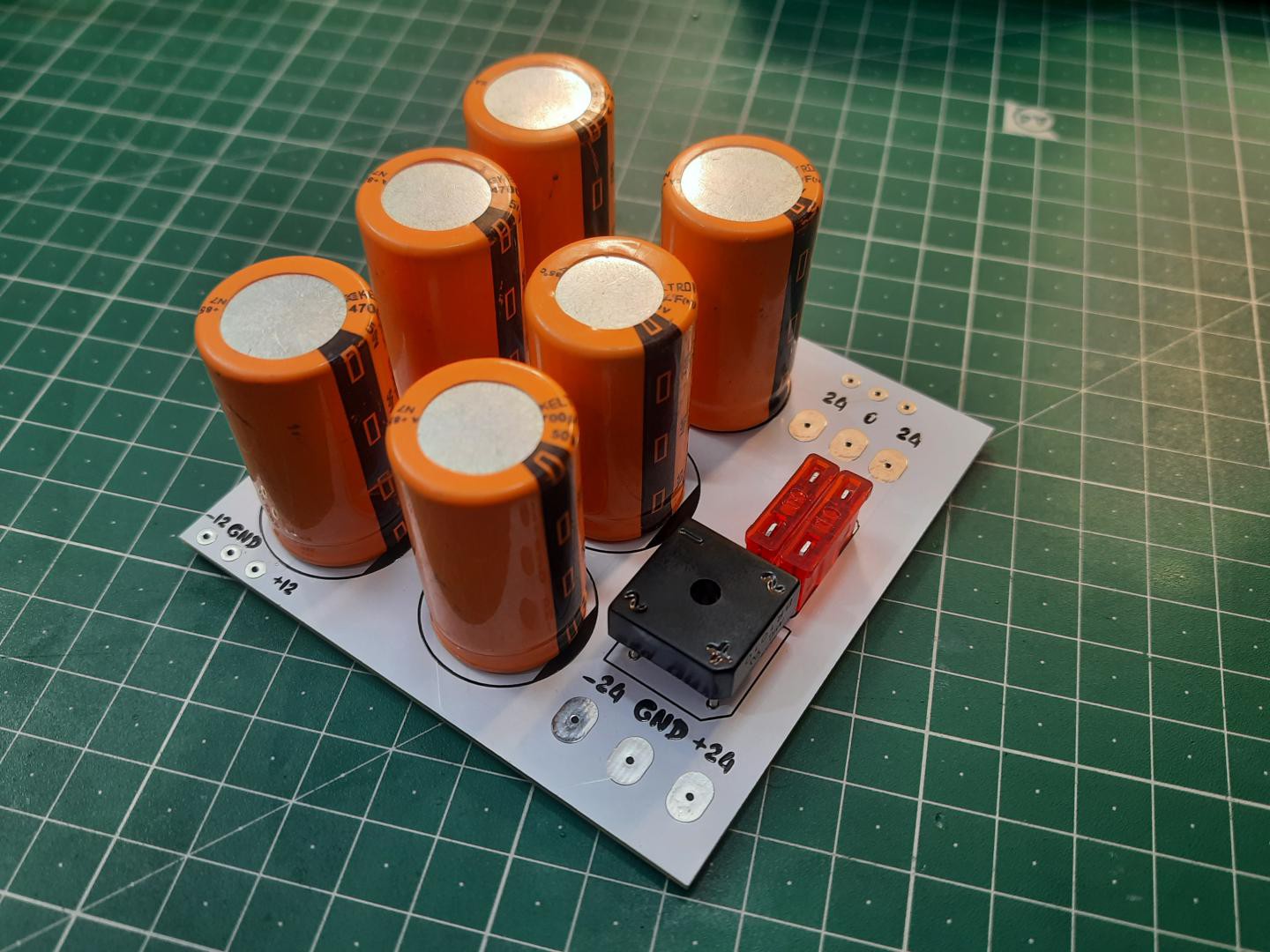 A dual channel power supply which can output -24,0, +24 is required, I have built one previously using rectifier and filters. Which work fine with center tapped transformer and has protection features also. See dual channel filtered power supply from here.
PCB and designs:

I designed my files according to the updated schematics and turn it into PCB using Altium designer. You can download the Gerber files from here if you want to go with the same designs.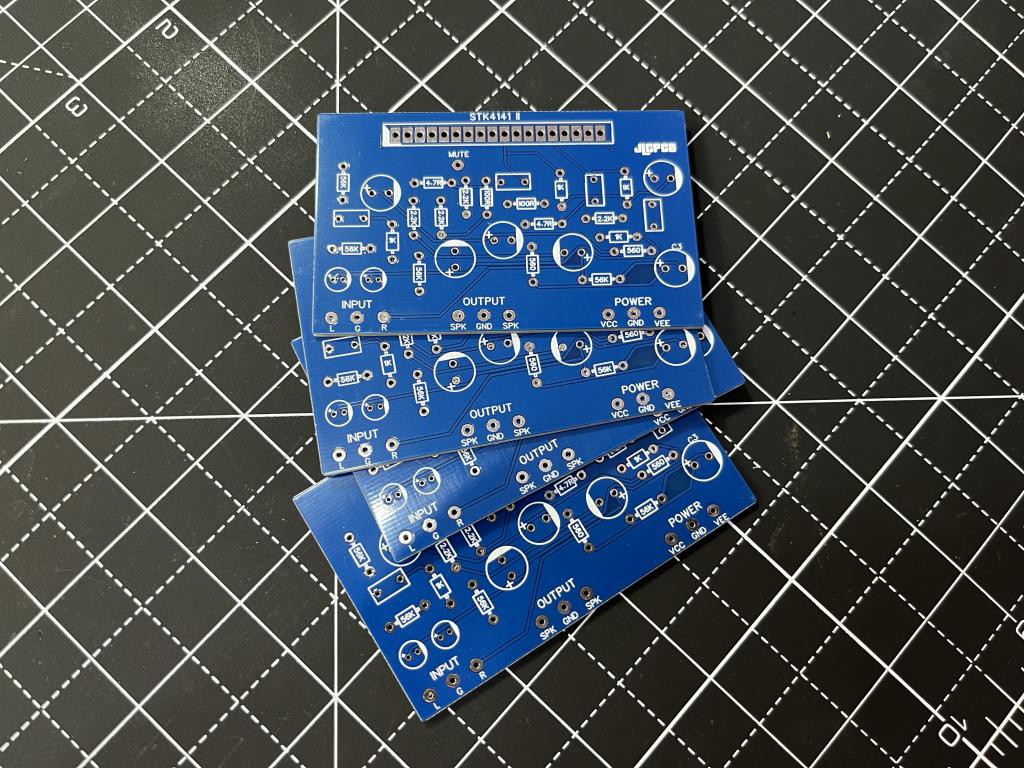 I used blue color, hasl finish and 1.6mm thickness of fr4 material specs to manufacture these boards from PCBWAY. PCBWAY is providing prototyping service in just $5 for 10 pcs of 2-layer boards. You can also check PCBA, 3D printing, Stencil service and CNC from the official PCBWAY.com. Register now using this link and get new user free PCB coupons for the first order.
Soldering and mounting components: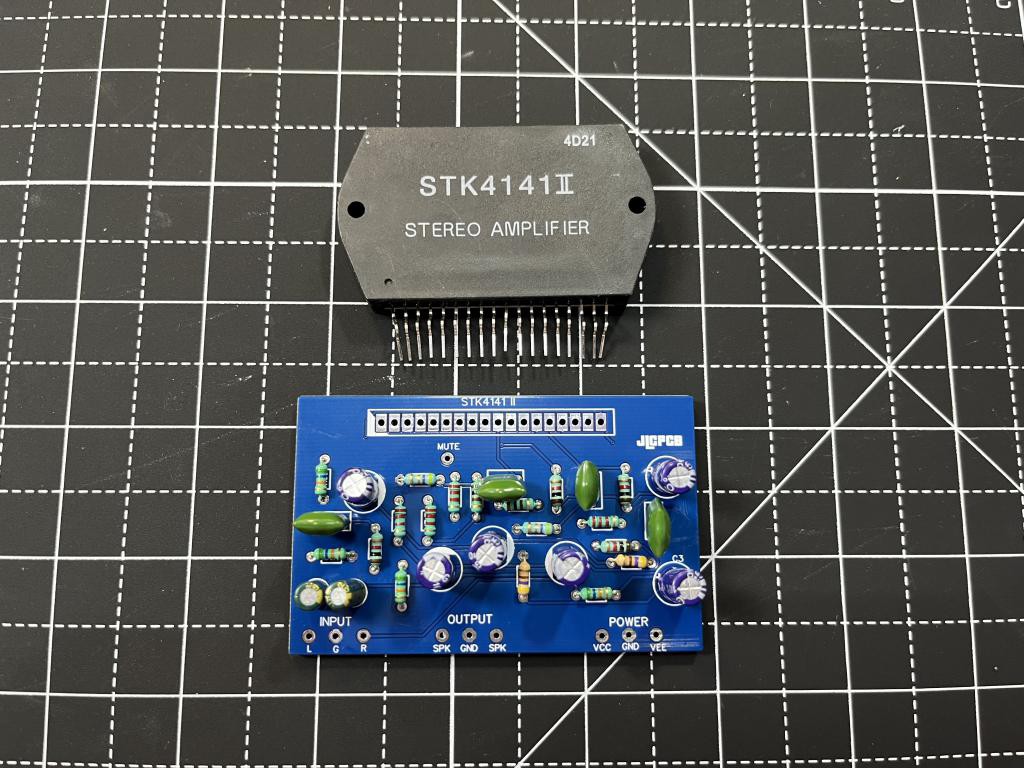 First solder all the resistors then go with the capcaitors. Solder the joints properly when working with audio applications because any dry joint my cause humming issues. After soldering all the components go for the IC STK4141. And remove the access soldering residue using alcohol.
Mounting the heatsink: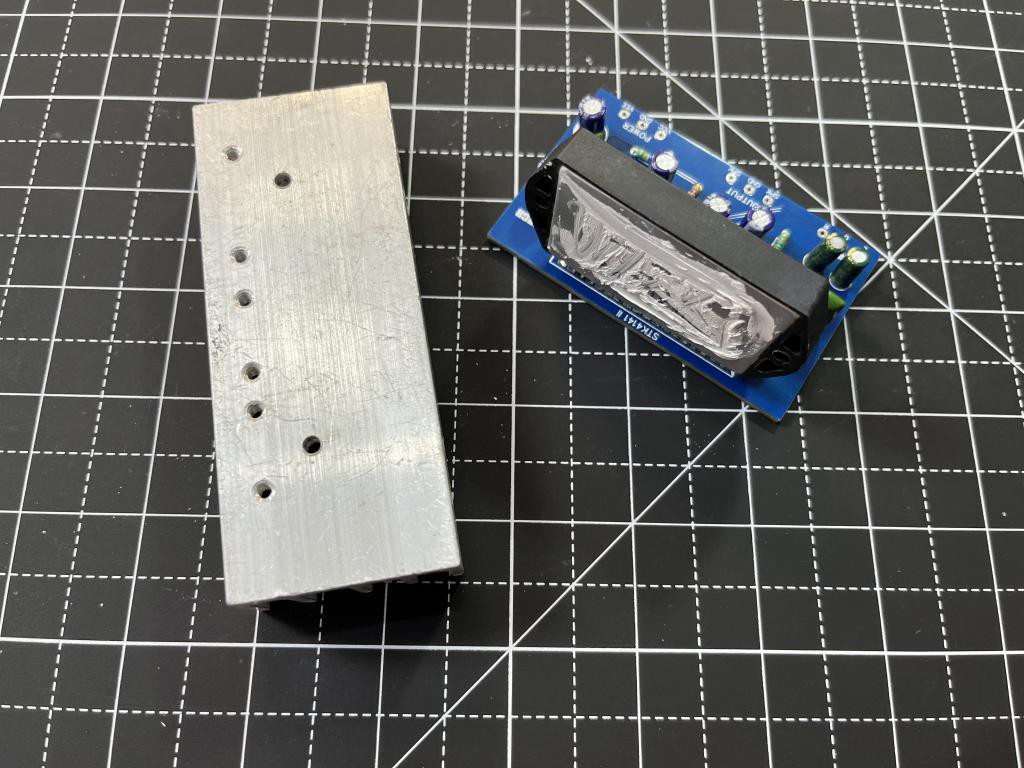 STK comes with an aluminum back which acts like a heatsink but for heavy load it is not enough. That's why a bigger aluminum piece is needed for heat dissipation. Add a little bit of heatsink compound in between the IC and heatsink and then tight it using the screws. Now you can run the amplifier on 100% potential and no need of any type of active cooling is needed anymore.
Connections: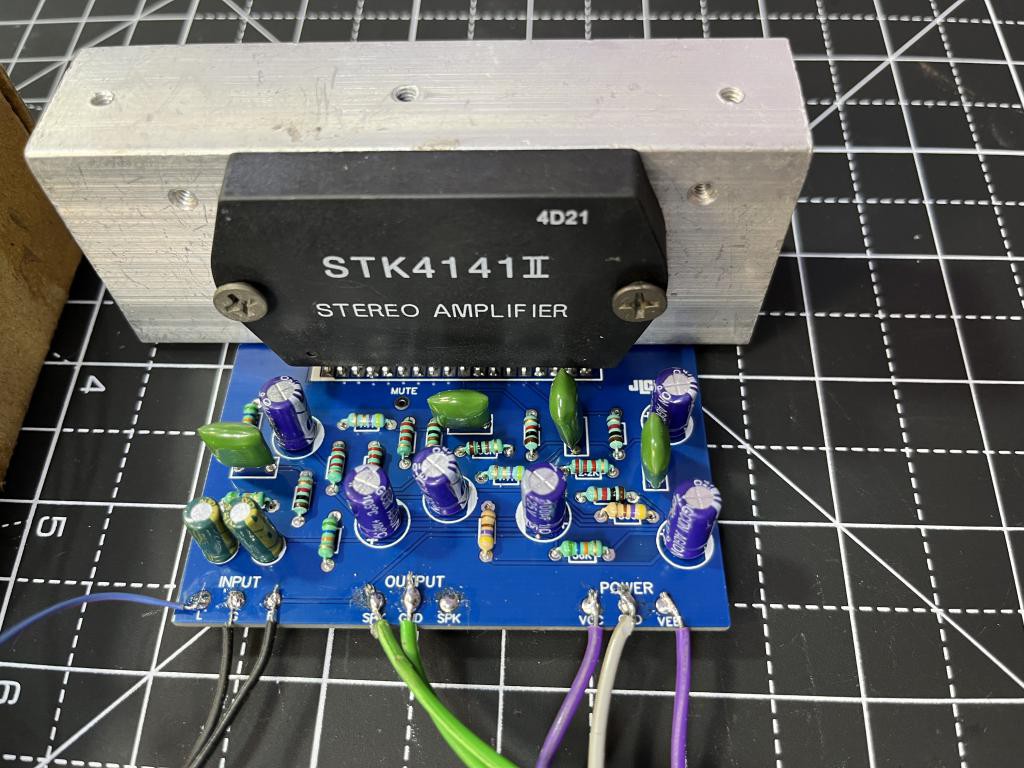 There are 3 terminals are given for the input, output and power. Power connections are simple just connect a DC filtered power supply of dual channel. VCC to +24, VEE to -24 and GND to centre zero reference. Input can be supplied using any Bluetooth or Aux cable directly from the phone. Connect speakers on the output terminals. GND remains common everywhere so two wire are connected to GND and other to the SPK terminals.
Working of amplifier:
As I said earlier it gives a feeling of old music era, I don't now but the IC itself made the effect which gives relaxation. If you are fond of listening old music then this might be an amplifier for you. There is slight high treble and normal bass effects when using normally without any preamplifier circuits. This amplifier is not made for the heavy bass output, just connect 2 stereo speakers and listen. You can see the bass output and stereo speakers output in the video given above.
Circuit diagrams and Schematics
STK4141 Amplifier is hidden GOLD
DIY STK4141 amplifier, old is gold and the music experience with this amplifier is really fascinating. Let's DIY one using PCBWAY service
PCBWay Donate 10% cost To Author
*PCBWay community is a shared platform and we are not responsible for any design issues.
Copy this HTML into your page to embed a link to order this shared project
Engineer
design

usability

creativity

content
You may also like
HID2AMI v2.0 with Mousewheel Support

5519 0 11

PALPi V5 Handheld Retro Game Console

4424 1 4

ESP32-S Development Board, in "Arduino Uno" form factor

3158 4 10