HyTech Racing at Georgia Tech
This season, the team will be competing in three competitions which are Formula Hybrid, Formula SAE Electric and Formula North.
The Formula Hybrid Competition is an interdisciplinary design and engineering challenge for undergraduate and graduate university students from around the world. They must collaboratively design and build a formula-style electric or plug-in hybrid racecar and compete in a series of events. This educational competition emphasizes drivetrain innovation and fuel efficiency in a high-performance application.
The Formula SAE Electric is part of the International Formula SAE program which is an engineering design competition for undergraduate and graduate students. The competition provides participants with the opportunity to enhance their engineering design and project management skills by applying learned classroom theories in a challenging competition. The engineering design goal for teams is to develop and construct an all-electric, single-seat race car for the non-professional weekend autocross racer with the best overall package of design, construction, performance and cost
The Formula North 2017 event is a Canadian Formula Student automotive engineering student-design competition which will take place at the Barrie Molson Center, in Barrie, Ontario from June 1-4, 2017. The competition requires students to design, build and compete with a new open-cockpit, single seat F-1 style race car from scratch every year. Students are then challenged on their car's design, overall cost and performance on track by various experts from the automotive and motorsports industry.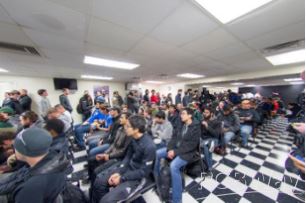 HyTech Racing, a student-run organization at the Georgia Institute of Technology, is dedicated to the design and development of an electric vehicle for the Formula SAE Electric, Formula Hybrid Electric and Formula North series. At HyTech Racing, our goal is to gain a deep understanding of all aspects of vehicle design and development. Each member of our team has a chance to learn about all components of vehicle design and production through research, CAD design, machining, component sourcing, project management, manufacturing and testing. The team is Georgia Tech's premier all-electric race vehicle and works collaboratively with all student competition teams to gain hands-on experience in the world of automotive engineering.
The HyTech Racing team is divided into several sub-teams, each made up of several highly skilled and determined students. In particular, the electrical team is split into the circuits team, the high voltage systems team and the programming team.
The circuits team has begun manufacturing their first circuit boards for the year. For this season, they have embraced a more modular approach in their design. Instead of locating all the control circuits in a central location, they have opted to bring each piece closer to the components it controls. For example, the Throttle Control Unit is located near the throttle and brake pedals, and a Cooling Control Unit located in the rear near the cooling fan and pump. This design saves a lot of wiring, and mimics the approach used by real world vehicle manufacturers.
The High Voltage Systems sub team is tackling a large engineering feat this year. They have switched from using prismatic LiFePo4 cells to using pouch LiCoO2 cells, and this carries with it substantial requirements in order to build a safe battery pack. The battery pack is made up of 72 pouch cells, divided evenly into 4 accumulator segments. Recently they have worked hard to document the battery pack design and sent this to the Formula Hybrid competition judges for review.
Our Programming sub team is working to create a robust vehicle control system utilizing the CAN Bus protocol. The full requirements for each ECU are being developed and each microcontroller programmed to send and receive messages necessary for running the car. In addition, the team is working to build a useful remote telemetry system for viewing vehicle status and performance details remotely. This system will be very useful during our testing phases, helping us detect issues with hardware or software, and gather data for tweaking vehicle performance parameters.
We would like to thank PCBWay for supporting our efforts and ensuring that we have a great learning experience!
Apply for sponsorship >>
524 Projects Sponsored
More by ayush-jha