Garuda Network-DMRD (Disaster Management Rescuer Drone)
Disaster Management Rescuer Drone
We believe in Dinosaurs is an exploration of the scientific and historical veracity of the Bible and the construction of an authentic likeness of Noah's Ark in Williams town, Kentucky. Known as "The Ark Encounter," this theme park explores the Judaeo-Christian story of the wrath of God, a great flood, and the re-population of the earth. While not all flood stories are the same, the description of the destruction of the world by water is a common theme in many religions and cultures. Most flood stories include an angry God or deity, and a catastrophic water event that destroys the world but is only survived by a chosen few.But even with that simple plot, the execution can vary greatly.
Natural Disasters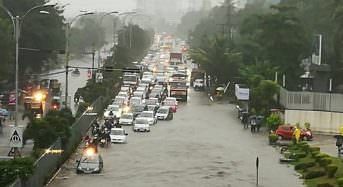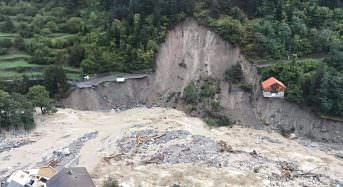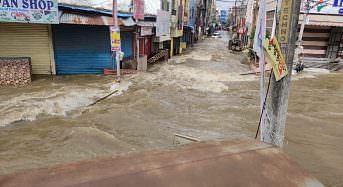 So we all know about flood , Due to As most people are well aware, the immediate impacts of flooding include loss of human life, damage to property, destruction of crops, loss of livestock, and deterioration of health conditions owing to waterborne diseases. As communication links and infrastructure such as power plants, roads and bridges are damaged and disrupted, some economic activities may come to a standstill, people are forced to leave their homes and normal life is disrupted.Similarly, disruption to industry can lead to loss of livelihoods. Damage to infrastructure also causes long-term impacts, such as disruptions to supplies of clean water, wastewater treatment, electricity, transport, communication, education and health care. Loss of livelihoods, reduction in purchasing power and loss of land value in the floodplains can leave communities economically vulnerable.
After floods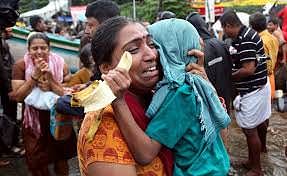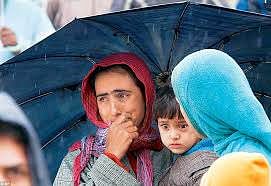 Floods can also traumatise victims and their families for long periods of time. The loss of loved ones has deep impacts, especially on children. Displacement from one's home, loss of property and disruption to business and social affairs can cause continuing stress. For some people the psychological impacts can be long lasting.Building were destroyed , crop loss etc. something we can rebuild , But what about our Life. Ones loss can't...
major cause of death reason
so securing our life is more important than all.But in some situation it become difficult. Some of Die in flood due to , don't getting food items , first aid etc ..In normally we used helicopter for give foods to home that surround by water but due to some reason such as landing space issue , then throw that from air food items can't use well moreover sometime they can't fall into proper place.Other one , if somebody fell into flood how we can help , use helicopter is a issue :wind power to down from helicopter etc. how we can solve this issue .
How we can save the life of human from this?
Only one way .Use advanced technology in this world.
Garuda Network:Use drone in emergency situation, for delivery food ,medicines , and give life jacket to person who fell into water .this is our working theme , we also have some other facilities.Such as
Thermal camera for night patrolling and surveillance
Live GPS Location for identify and help the person who were in trouble
Also used Artificial Intelligence to identify and recognize people
Autonomous flying
Can control up to 5km range
surrounding mapping etc
carry up to 10kg
How we use funding from donors?
We brought some of materials for this project but i need some more money or parts to complete this project.We use this fund buy drone parts such as motor , transmitters ,Lidar etc
Why named as Garuda Network?
Like all birds of prey, eagles have very large, hooked beaks for ripping flesh from their prey, strong, muscular legs, and powerful talons. The beak is typically heavier than that of most other birds of prey. ... The female of all known species of eagles is larger than the male. like wise our drone not a playing type one. heavier, powerful ,stronger ,efficient vision .Using multiple drones for rescue process make it very efficient.
Using artificial intelligence and Autonomous flying making it more power and efficient than helicopter.
Early works
we created a drone for this but as that low quality hardware we can't implement fully .we just tried to fly a drone with load around 0.8kg.
but due to our continues research it get some crashes and totally lost that drone
but after 6 months we started our research again on this project , we learn lot of from prevision model and learned how to fly it well .but it has high vibration and less thrust , So we change that body, motors ,battery and Flight controller make it partial Autonomous and add GPS for accuracy .
but it can only hold 1kg,
So we decided to use high motors that take about 10kg ,but motors price is very high and it other accessories price is also high . That's why we add our issue in milapp. So we think all will help for our project , donate for future
why we raising fund ?
This is a expensive project(hardware expense main) because we can't take any risk for saving human life.So using this fund we can make a effective solution for our world .
What made us to build this ?
A total of 1,185 deaths were associated with 32 flash floods, an average of 37 deaths per flash flood. The highest average number of deaths per event was associated with the four flash floods in which dams broke after heavy rains.(from google information) .from this we can easily know the importance of this project.
parts list and price
TX and RX (1 required) 28163/- rs:
https://www.amazon.in/FrSky-ACCST-Taranis-Channels-Transmitter/dp/B072559WH9/ref=pd_sbs_21_1/258-2285114-5908628?_encoding=UTF8&pd_rd_i=B072559WH9&pd_rd_r=7907ed47-9fa3-4d17-adc7-718a8d9fb40f&pd_rd_w=rK3lI&pd_rd_wg=E5ewH&pf_rd_p=758bfbc8-a8f2-4456-bf65-ae5d502eac06&pf_rd_r=HV8WZ3RCNQ5SMQE8WCR2&psc=1&refRID=HV8WZ3RCNQ5SMQE8WCR2
Battery ( 1 required) 40000/- rs:
https://www.googleadservices.com/pagead/aclk?sa=L&ai=DChcSEwiMyL7wsvjtAhWJJCsKHVXdAIQYABAEGgJzZg&ohost=www.google.com&cid=CAESQeD2zlZGMZmHmaYN_7OdQ90N1Nxyjj9q0HQYF4exb1BcFiL5m0Onai1E5RSYrWbk1nPYMuTI22KL7RWy-pJJksgu&sig=AOD64_215_E2qf495QyEp7RG9cUFkzgm_w&ctype=5&q=&ved=2ahUKEwjapLDwsvjtAhXWV30KHRQoDZkQ9aACegQIBxBa&adurl=
ESC (4 required) 24000/- rs for 4 ESC:
https://www.googleadservices.com/pagead/aclk?sa=L&ai=DChcSEwj5246es_jtAhVNDCsKHdcEBDYYABAHGgJzZg&ohost=www.google.com&cid=CAESQeD2dWdqjNGr-n_nfzZOXtZdAfNd1jVy9XBwxnu_xa1Fp-ZcKT0eyIgJXH4m2gd93KAkFKv99xTLJE5AOWduVy6z&sig=AOD64_28sdjB8jDTrKzTOoNIKM8W1sw32g&ctype=5&q=&ved=2ahUKEwinpoies_jtAhVSfisKHV94DGQQ9aACegQIBxBI&adurl=
Actual this price is very high , in our local store we can get it 4 one in 24000rs , i put that link for what material we use.
Motor(4 required) 49439/- rs for 4 motors:
https://robokits.co.in/drones-quad-hexa-octa-fpv/t-motor-esc-propeller/tiger-motor/p-type/t-motor-p60-170kv?gclid=CjwKCAiAirb_BRBNEiwALHlnD2mQU1ZIelfrdquCTg1I4ZzRrVFNjjQe7fZpZWdJYQDeh8veMy8l6BoCOegQAvD_BwE
Lidar( required 1 ) 8549/- rs:
https://www.googleadservices.com/pagead/aclk?sa=L&ai=DChcSEwjA49GnwfjtAhWWCysKHbNWCBcYABAEGgJzZg&ohost=www.google.com&cid=CAESQeD250TCUpj6Ggpb2Mc1wdQf796Sn6uApKcn7MhYyFp6Uv7lyCpJUxIz3DR5khecxZfw4EndjFqGHh0KREeMIiKe&sig=AOD64_3guG-cx_-GyZLh260NaVkCXQjp4g&ctype=5&q=&ved=2ahUKEwiQ6cunwfjtAhWYc30KHbMfCm8Q9aACegQIGRBM&adurl=
My experience:
Experience in Python, C and Cpp, Iot robotics, drone developer.
Made more than 20 drones for final year collage students.
Got many prize in national tech fest link to my achieves
https://atmegarobotics.boomer.co/gallery/my-achievements
Apply for sponsorship >>
524 Projects Sponsored
More by Engineer