The concept of the competition is the students to design and manufacture their own single seat race
Competition Introduction with related photos:

Formula SAE is a student design competition organized by SAE International. The concept of the competition is the students to design and manufacture their own single seat race car. The competition consists of several dynamic and static evets. These are listed below:
Figure 1 Formula Student Germany
During each summer there various competitions (like Grand Prix) takes places around the world were our team participates.




Figure 2 Aristurtle at Formula Student Hungary
Project Introduction:
Aristurtle is a research student team of the Aristotle University of Thessaloniki,Greece, whose aim is to design and build the first electric single-seat racing car in North Greece and participate in the international Formula Student FSAE competitions.

Since its establishment, Aristotle University Racing Team Electric has set a remarkable way, achieving the 4th place overall in the Formula Student competition in Italy , ATA 2014, and the 3rd overall position in the equivalent competition in England, held at Silverstone Circuit, in July 2015. As the team main goal, the construction of the car, was established the team participated in the competition of Gyor, Hungary in August 2016, were it was awarded as finalist in one of the static events, the Business Presentation. The team has received particularly encouraging and supportive comments for its effort so far, both from the General Secretary for Investments and Development (ESPA), Mr. C. Giannousi, and the dean of the Aristotle University, Mr. P. Mitka. The team's scientific coordinator is Mr. Christos Mademlis, Associate Professor in the Department of Electrical and Computer Engineering at Aristotle University of Thessaloniki.
Project Details
Aristurtle's first car – named "Electra" – is fully a fully functional vehicle with a Battery box dimensioned at 300 Volt DC, using two PMSM with total 110 kW nominal power having a maximum speed at 130 km/h and 3.8 s acceleration of 0-100 km/h.
Aristurtle now proceeds to improvements of its electronic parts for the racing season 2016-2017. These parts are briefly described below.

As an electric racing team Aristurtle designs custom PCBs for all of the electronic components. These components are a distributed Battery Management System for 7 Segment Battery Box and a custom designed master microprocessor PCB. Some safety circuits are also developing in order to ensure human's and vehicle safety from High Voltage. In order to evaluate our sensor signals a data acquisition board was designed. Finally, as an improvement a CAN communication protocol will be designed for better evaluation of these signals.
All of the PCBs are designed in Altium Designer and their main characteristics are listed below:
-Material: FR4 1.5mm
-Cu: 35 μm
-Surface: Chemical Gold
-Minimum Drill Diameter: 0.3 mm
-Minimum Trace/Space: 150 μm

Figure 3 Electra during summer track trials
Figure 4 PCBs from the racing season 2015-2016
Figure 5 BMS Testing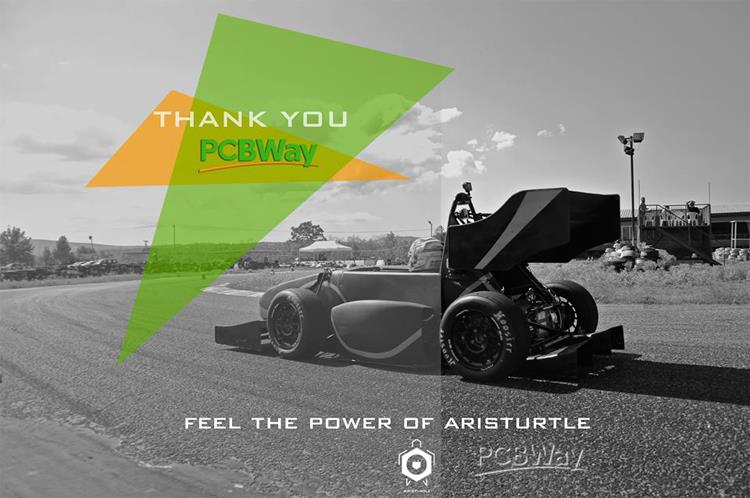 Apply for sponsorship >>
524 Projects Sponsored