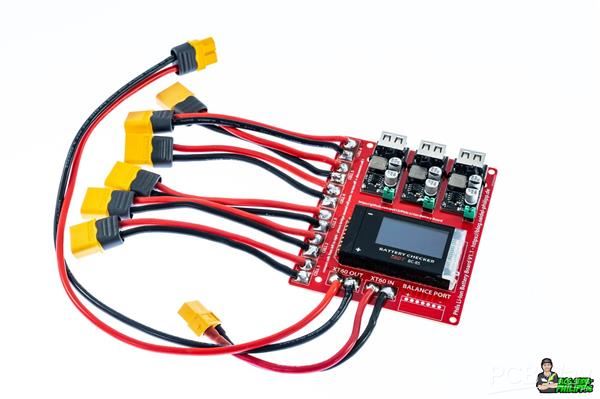 Phils-Li-Ion-Battery-Board
I created this PCB for my personal project of a very big custom Li-Ion Battery which i use to charge my FPV Racing Drones Batteries on the flying field. With this PCB, you can build your own LiIon/LiPo Battery with up to 6 cells. You dont need to worry about the balancing wires, they are intregated in the PCB.
An ISDT BC-8S monitors all your cells and alerts you if there is any problem.
In adition, i also added 3 USB QC3.O USB Charging Ports, which can be seperatly turned on/off via a pin header jumper.
Features
connect up to 6 1S cells via Xt60

XT60 Plugs (direct or via cable)

3X 24W USB QC3.O USB Stepdown

Balancer Port

Port for ISDT BC-8S

open copper trace on back - fill with solder tin to increase trace height

99mm x 80mm Board (all dimensions here)
What do you need
(some links above are affiliate links / Werbung)
Important Notice
I removed the solder mask in order to apply solder to the traces on the back. I highly recommend to add a good amount of solder to all traces on the back to increase the trace height. With this method, the Traces can withand high amp flow.
I highly suggest to charge big parallel packs with individual 1S Chargers. Charging big batteries via the Balancer Port may take a while.
If you want to use less than 6 cells, just bride the unused XT60 ports.
Blog post about the project